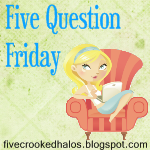 Hope you all had a good week. I am linking up today with Mama M. from Five Crooked Halos (cutest name ever since she has 5 kids!!!) for Five Question Friday. Ya'll know I love questions. So here goes:
1. Did you make any fun purchases this week?
No :(
2. If you could go to any musical concert, what would it be?
Right now it would have to be Jason Aldean. I love a lot of his new songs. This is a hard one for me since I LOVE music.
3.
What is your least

fav

/ most

fav

house chore?
Least favorite is vacuuming. Most favorite is making the bed because it makes Kat very happy!
4. W
ould

you prefer new appliances or clothes?
New clothes please. Always.
5. Miracle Whip or Mayo?
Mayo. I so do not understand Miracle Whip. I have only tasted it once but it tastes really really funny to me.
I actually took some ADVICE from someone wiser than me and deleted the last post and rewrote this one. Those of you who know what I have been going through PLEASE keep me in your prayers!!! Let me know if you are a new reader and direct me to your blog!!! I always try to stay positive on here, but sometimes I just have to share with you all exactly what I am going through. I know some of ya'll have been where I am!!!
Point taken. Trying starts today!
Nantucket. Definitely on my list of places to go.
I like this one a lot. So true.
This kitchen is gorgeous. I love everything from the ceiling, to the island, and all the details in between. Gorgeous. Its funny because I LOVE kitchens and am really a good cook when I just try, but I don't consider myself someone who like to cook. Hmmm. Does that make sense??? I think I need to cook more!
This one is going to go up somewhere so I can see it everyday. I so need reminders like this when I am in a funk.Where the heck did I get my reminders before Pinterest???
GORGEOUS!!!


I hope you all have a fantastic Friday. Friend me on Pinterest on my right side bar and I will follow you as well. I am obviously obsessed!!!
xoxo,
Sara