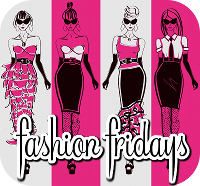 Hey all you beautiful people! Today was a gorgeous day in Nashville-85 and sunny-and of course it had me thinking about spring and summer fashion. I have linked up with Kori at
Blonde Episodes
for Fashion Fridays. Click the image above to link up. Spring and Summer preppy clothes were on my mind today and I love all of these looks and preppy spring items. All images are courtesy of Tumblr.
Right up my alley in Pink and Green of Course.
Sperrys but in brighter colors. I have to admit I don't own a pair yet, but they are on my list.
Love this classic look. I am known at work for my sweaters with the
cuffs out. Love the bracelets too.
I am not a nautical girl, but I know a lot of you are and I realy liked the colors.
Perfect preppy daytime look.
Love this look for Keeneland or another spring event.
Kiel James Patrick Bracelets are so fabulous. One of these would look
good paired up with the Lilly sailor bracelet I talked about yesterday.
This preppy blazer would be cute for work.
One of my favorite classic shirts I own. Perfect coverup.
Not loving the hair. but the jeans, trench, and Sperrys complete the look.
Great skirt for work and I love the Jacks. Have to admist don't own a pair of
those yet either. Another of my must haves this year.


Hope you enjoyed these preppy spring looks. They definitely inspired me to get into those closets and see what I can put together. I really really would love to have the bikini. It was posted under collegekelly on Tumblr.
I am really looking forward to this weekend. I am somehow blessed with tomorrow, Sunday, and Monday off and I couldn't be happier. I have so many books to read and the pool is just calling my name. Be sure to check back tomorrow, I will be hosting my first giveaway, which I am really excited about. Happy Easter to everyone and enjoy the weekend.
Happy Friday,
Sara
P.S. I am fairly new to the blogging world and really enjoy discovering bloggers. Please become a follower on here, send me a link to yours, and I will be happy to do the same.