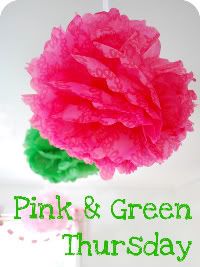 Hey Everyone!!! It's Pink and Green Thursday again and one of my favorite posts of the week! Link up with Pink Preppy Lilly Lover and show your love for all things pink and green
here
!!! On a side note I am SO excited! Our new schedule for next week came out today and I am already off this Saturday but just learned I am off Sun and Mon as well-I can't tell you how badly I need 3 days off in a row!!! It's the little things in life like this that keep me going. Here are some beautiful pics to get you in the spring and summer mood. I found all these pretty pics on Tumblr-yes I am finally figuring it out.


Yummy, Yummy, Yummy and oh so pretty! via
 
Beautiful bouquet and hanging arrangements! via

The perfect summer drink. Hope it tastes as good as it looks! via

So cute-although I am sure I would fall off if I tried to ride it!
So cute and you can purchase one here! Would like so cute on my bed.
LilluPulitzer.com has 3 of these sailor bracelets and I have been debating on purchasing them.
SO cute and I used to wear these all the time as a kid.
These are for our adorable patio. I purchased them at the $1 store for $1. Can't decide if
I should get more of if those 2 are enough!
Not a very good pic, but my new favorite Essie color, mod square.




Hope everyone enjoyed these pics and at least one of them made you smile. Sorry posts always end up being after midnight, so you will probably end up reading this on Friday, but I work until 11 so I don't usually get to blog and read all of yours until late. My favorite de-stressor after a hard day.
If you catch yourself reading please please become a follower and I will do the same for you! Just link me to your blog.
I am SO looking forward to the weekend, does anyone have any big plans???
xoxo,
Sara