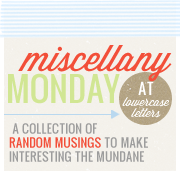 Mondays are usually crazy days for me, but I can gladly say that today was the exception. Kat and I were both off yesterday and today so that meant we got to spend lots of time together with no to-do lists and no obligations to anyone. I need more days like this! Here are some random musings I have had lately as well as some random finds!
Here are some great giveaways that I found today while reading some of my favorite blogs.
The first one is from Ashley at
Ashley Brooke
. Sweet Tea Paperie is a super cute store that has all kinds of bright colored monogrammaed goodies! Some of my favorites are:
Alligator Plate


Address Labels
Sterling Rimmed Filigree Monogrammed Pendant
Go to Ashley's blog above and you have up to 8 possible chances to win the $40 shopping spree!
The next giveaway is sponsored by The Monogram Merchant and is hosted by Bethany from
Maryland Pink and Green
. This is a perfect giveaway for Lilly Lovers! One lucky winner is going to
receive

a
personalized or monogrammed acrylic ice bucket of choice. You get to pick the Lilly Print and what you want on it! To see all the choices click here!
In addition to Lilly Items there are a lot of cute other things. My wish list includes:
I LOVE this print. One of my favorite dresses matches that! I don't entertain, but I could make this tray look cute!
Ever since I graduated I don't really need an agenda, bit I still want one!
LOVE the monogrammed beach towels. I of course would get the pink with green or vice versa.
The Monogrammed Merchant was very cute. There are so many practical, cute items and the prices are reasonable too. Go here!
I have so many other things to mention, but time flew by tonight. I have to be at work at 7:00 in the morning. Let me know if you are a new reader and I will be happy to add your blog to my daily reading list.