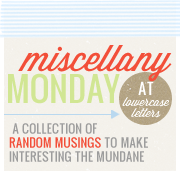 Miscellany Monday has gotten to be another of my favorite link ups and since I didn't get to do it yesterday I figured why not today? With the holiday and everything yesterday, I think it does feel like a Monday.
I just finished the CUTEST book I have read in quite a while, Little Bitty Lies by one of my favorite Southern Authors, Mary Kay Andrews. If you are not familiar with her style, she writes the most hilarious books about life in the South and the crazy (but so believable) situations that her characters get into. This one was no exception. Mary Bliss comes home one night and discovers that her husband has left her as well as their daughter Erin. She quickly finds out that he has drained there bank accounts, has not paid the mortgage in 3 months, and has left no money for Erin's tuition. As the plot thickens Mary Bliss decides to do whatever and I mean WHATEVER is necessary to keep them from losing their house and to keep Erin at her private school for her senior year. The cast of characters add to this humorous tale and Mary Bliss finds out what it really means to be a single Mom raising a teenage daughter. I don't want to say anymore because I want ya'll to read it! I just started it last night and could not put it down until I finished it this afternoon. It was a nice change from the more serious books I sometimes find myself reading. Go get Little Bitty Lies by Mary Kay Andrews it is a fabulous summer read.
How adorable are these Jack Rogers Jellies??? I have loved Jellies my entire life and remember wearing them all summer when I was a kid. Then they made a comeback when I was in middle school-had to go right out and buy some pink ones of course and this summer I have seen these as well as a pair by Lilly Pulitzer that I LOVE as well. Hopefully I can get a pair of these fairly soon.
I have found so many cute giveaways lately and this one is no exception. Sarah Elizabeth of
Were Just Like You Only Prettier
is giving away the most adorable cooler that she painted filled with all kinds of fun Summer items. To enter just click on the button above. You have until July 12 at midnight and there are 5 possible entries. Here is a little peek of all the summer goodies!
P.S. Savannah Breeze is another book by Mary Kay Andrews, who I mentioned above. It is hilarious and true to her great style!
I wasn't expecting much from this movie and I assumed it was just another chick flick that was either semi-funny or semi-annoying. I was SO wrong. I LOVE LOVE LOVE LOVED IT!!! Adam Sandler and Jennifer Aniston have perfect on-screen chemistry. He was not trying to hard to make you laugh and she wasn't acting stupid or ditzy like she has in some of her past films. This movie is unpredictable and made me laugh really really hard and made me cry. The main part of the movie takes place in Hawaii and the scenery is just gorgeous. All the other characters are super funny as well, especially the kids and Nicole Kidman's character. I am not going to tell you anymore about it except that I HIGHLY recommend it. I watched it 2 days in a row I loved it so much!!!
I need to give a big shout out to an amazing customer service rep at Verizon Wireless. My Blackberry bit the dust last week and I was devastated. The weird thing is that I didn't drop it, get it wet, or anything. The keyboard just stopped working. I never knew how addicted I was until I didn't have it and that is just sad. Thankfully I had an old flip phone in really good condition that I could use. I called, talked to someone, told him what had happened and asked if he knew of a way to fix it. He said he did not and turned the flip phone on. My free upgrade was scheduled for October and since my insurance was cancelled (my last brand new phone that was an upgrade was stolen and the insurance company didn't want to pay for it) I had no choice except to wait for my upgrade in October or buy a reconditioned one.
I used my flip phone for about a week and was going crazy! I actually had to get on a computer to check my email, Facebook, blogger, etc. I also forgot how long it takes to text message-how far we have come! Anyways, I turned my blackberry on one night and it started working again, I immediately called and talked to this guy and asked him to switch my service back to the blackberry. It worked a whole 6 hours and was gone forever.
Called Verizon the next day to ask them to turn the flip phone on once again. Told her again what was wrong with it and she said that it could not be fixed and was gone for good. She asked me when my upgrade was and went ahead and did it early!!! I had been planning on getting the iPhone all along, but it was gonna be $200 and my financial situation at this moment does not warrant me spending that on a phone. I am so excited and happy with my new Blackberry 3G in Fuschia! As soon as she told me this I knew it was meant to be. I am still trying to figure it all out and get it to look exactly like I want it to, but what a blessing! That sweet customer service rep made my month for sure!!! I also found it quite interesting that I talked to 3 different people before her and not one of them offered to do this. Good Customer service makes all the differemce!
My favorite pics last week from Pinterest of course:
Cutest Bridesmaids Dresses Ever!
One of my favorite things to do in the Ocean, helps me remember how small I am in this GIGANTIC universe.
I would love to trade places with her!
So true.
The way this pic was taking is absolutely gorgeous!
I didn't mean for this post to be so long, but I just had so many great things to tell you all about! If you find yourself reading and your not already a follower please join us! I love finding new blogs so please comment and leave your info and I will do the same for you!!!