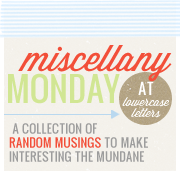 I have been missing all of my link ups lately and I decided to join a new one today. I have linked up with Carissa at
lowercase letters
for Miscellany Monday which is a collection of random thoughts-right up my alley if I do say so myself!
1. I have been thinking about the beach sooooo much lately, St. Simon's Island, Ga. imparticular, and I really really hope I get to go this summer. We are supposed to be going July 4 through the 12, but with everything that is going on with Kat, funds are pretty tight right now. However, there are a couple of possibilities: We can push it off until the end of the summer and hopefully save up enough money to go by then, my Mom said that she and my stepdad are thinking about going this year and if they do I know we can go with them (free trip!!!), or we can go somewhere else that is a little closer and not so expensive. A perk of our jobs in the hotel business is that we get hotel discounts all over the world. This would be a more feasible option, but ya'll I am so spoiled and I want to go to St. Simons soooo bad and go to our special little place that we love to stay. Is that just to much to ask???
My family has stayed at the King and Prince my entire life, but it is a little out of our price range when we go alone. I practically grew up here in the summers! Nice thing is even if we don't stay there we still lay on there beach, go to the bar, and swim in the pools, so that makes up for it. Definitely planning on moving to St. Simons or Savannah in the next few years. The cost of living is actually less than here in Nashville and with both of us being in the hotel business, finding jobs in our field leaves us with lots of options.
2. With the exception of 1 hotel, I have always moved up to the front desk supervisor position. This is a natural progression at the front desk, especially when you plan on staying with the hotel and would like to move up in the company. I was excited when our current supervisor was moved up to the position of front desk manager at our other hotel and I thought I would at least have the opportunity to interview to be the supervisor. As I have said before, I love this hotel and would like to move up in the company, I feel like I am finally a part of something really special and would like to help the hotel and front desk continue to grow. I have the experience and lots of good ideas, but along with all of this comes a new general manager, who has decided that she wants to hire a supervisor from the outside, WE ARE NOT EVEN ALLOWED TO INTERVIEW. Crush go my goals at Hotel Indigo. She has made no move to get to know any of us and frankly acts like we are all idiots. My question to you is this: is that not discrimination??? She is discriminating against current hotel employees. I wrote an email to my manager about this and that I wanted to interview and am well qualified, but where the heck do I go from here??? Picture via
3. I have so missed reading all my favorite blogs lately so I have been catching up as much as possible. I was reading one of my favs today, The Pink and Green Prep and Hannah was talking about the cutest Etsy store, My Pink and Green Garden, where the designer makes all of the cutest pillows and other things all in Lilly Fabrics. I LOVE them. They would like great on my bed and on our couch. I am not crazy about the trim, but I am wondering if maybe she can make them without it?
This is really perfect because I have been wanting to make one of these boards in a bright fabric to hang my jewelry on. I was either going to put netting over the entire thing and pull it tight or put T pins on it to hang the earrings on. Does that make sense? In any event, this is only $31 and will save me so much time. It is so perfect! LOVE IT!
5. I was so super happy today and what a nice feeling it was. I know that probably sounds strange to some of you, but we have been going through super stressful times at our house and I feel like everything is looking up. Money came in from an unexpected source and it seems that more is on the way this week. HUGE relief since we have been living solely off of my income. It wasn't any HUGE amount, but it was enough to buy groceries!!! Yay!!! It is so funny to see how God has changed my priorities and I am loving it.
6. I love Pinterest and have been trying to end my blogs with pics that make me smile!!! Here are todays!
Coolest thing for the backyard ever!!!
7. I am so happy to be back on my blogging schedule I missed it so much. I am only 2 followers away from 100! If you like what you see please become a follower and I will happily do the same for you. I love reading and finding new blogs!