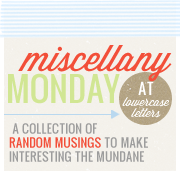 Today I am linking up with Carissa
lowercase letters
for Miscellany Mondays. I love this link-up because I always have lots on my mind that I want to share with ya'll, but not enough to write an entire post about. Here I can touch on all of these little things.
1. Happy Halloween!!! This is one of the first years that I haven't gotten dressed up and gone out to celebrate! I almost felt guilty staying home Saturday night. I have always loved to dress up and went trick or treating until I graduated from high school! The last time I dressed up was 2 years ago. Our friend's Susie and Jamie were married on Halloween, there favorite holiday. Kat and I were the greeters and everyone was asked to come in costume, especially if you were part of the wedding! I LOVE these costumes and definitely plan on wearing mine again.
Kat is the guitar, I am the witch Ballerina (yes complete with Tutu!), and Abby is Freddy.
Our balcony overlooks the lake so we always have lights up and they change with the seasons, holidays, etc. Its kind of hard to see but the Orange, Green, and Pinkish circles are Pumpkins! So cute and I must say we get TONS of compliments!

There is also a pedestal outside covered in orange pumpkin lights but I forgot to take a pic! Oh well!
2. I bought the cutest bag this week at a little boutique in Belle Meade called Holly's. Definitely one of my new favorite stores. Everything is super cute and the prices are so reasonable. I am in love with my bag and smile every time I pick it up. Its Rust and has all kinds of detailing and gold accents. The pics don't really do it justice,but I am in love for real!!!
Here she is:
3. My friend N who I told you all about here last week has decided to do an inpatient program for 30 days. I am so ecstatic that she chose to do this. I have been too see her everyday and its so amazing to have my wonderful friend back. I could tell she was feeling a lot better tonight, she was acting like her sassy self!!! I think God so much for reminding us that everything happens for a reason and for answering all our prayers!
4. I finally made a button for my blog all by myself!!! I am so pumped about it and would love for you to add it to your blogs! Let me know if yours is missing from mine sidebar as well, I will gladly add it if you follow me!
5. As I was reading my daily blogs earlier I was very excited when I reached Whitney's Blog, a displaced floridian. She is starting a book club with her best friend and I am going to join them too! The first book club selection is called If Andy Warhol Had a Girlfriend by Alison Pace.
It's a light, fun chick-lit novel and the story according to Amazon.Com is about:
Initially, gallery manager Jane Laine isn't very impressed with "it" artist Ian Rhys-Fitzsimmons. Which could be kind of a problem, since she's the one who has to accompany him on a five-month international art fair tour. To get through it all, Jane figures she'll be a good sport and keep her critiques to herself. She's preoccupied enough with mending her own broken heart, re-thinking her career path, and dealing with her Schnauzer-obsessed family. But now, traveling with this alleged genius from London to Rome and beyond, she starts to understand the connection between art and love—and the fact that in both, perspective is everything.
I have been trying to join a book club here in Nashville, but really have had no luck finding one. I am looking forward to this and please join us! The deadline for this book is Thanksgiving so that should be plenty of time.
Hope everyone had a Happy Halloween!
xoxo,
Sara