All of these pics just really inspired. The color is gorgeous and the pics alone just say so much to me. LOVE them all.
I found out about the perfect swap yesterday on a new blog I came across. It is a FLIP FLOP swap which is right up my alley, but the last day to enter the swap is tomorrow, May 20th.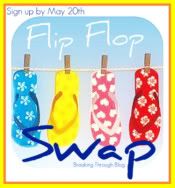 To become a part of the swap click on the adorable button above or go
here
and sign up! I will be back in a little while with my catch-up for the Celebrity blog challenge. I just can't seem to keep up with this one.
Happy Thursday!!!
xoxo,
Sara