So Michelle over at "A little bit of this and that" (A DARLING BLOG) has started a great thing called: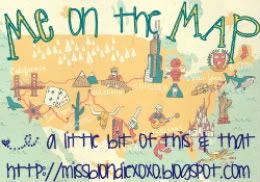 She has gotten a bunch of bloggers to link up and is creating a map with all of our locations on it so we can hopefully meet bloggers close to one another. I LOVE this idea. I have been trying to find some Nashville bloggers that have the same interests as me, however, I have DESPERATELY failed. Maybe this would help. So here's a little info on my little piece of the world called Nashville, TN. I am not from here, but have been blessed to call it home for the past 5 years.
The first thing that comes to mind for most people when you hear Nashville is country music. So many people ask me if I came here to sing. Yeah right. At first a lot of people I met had moved here to follow there dreams, but a short walk down Broadway shows it takes a whole lot of talent and a whole lot of luck and money to make it here in the music business, but that leaves the BEST talent right here that you can go out and hear every day or night of the week. The music scene is AMAZING!!! Karaoke here is not Karaoke. It is professionals belting it out-no drunk girls having fun!



Lower Broadway-The Honky Tonks-Tootsie's, The Stage, Robert's Western World
Legends, Paradise Park, Cadillac Ranch, WAY to many to name. ALL so much fun!
2nd Ave-More Honky Tonks! Wildhorse Saloon, BB Kings, Wannabes, and yummy restaurants.
My favorite bar Downtown in Historic Printer's Alley
In addition to all of the fun bars and live music venues The Country Music Hall of Fame is another favorite of mine. It is an amazing museum that can be enjoyed even if you don't possess a love of country music. It features great history, costumes, and all kinds of music and interesting pieces. There is always a specific exhibit going on and I take everyone when they come to visit. You can stay there for an hour or six. I find something new and interesting every time I go.
Side note-I cannot get the alignment and spacing to work on this post and it is driving me insane, I am just a little OCD. Another historic venue here in Nashville that I recommend is The Grand Ole Opry. It is still in the old radio show format and is an unforgettable experience. You get to see a bunch of life music at one venue for a low price. It is a concert format in which you can really enjoy the music. Everyone is quiet and respectful. There is so much history behind it, I never tire of going to see the show.
I could go on and on about Nashville. I could do an entire post on restaurants alone. We are blessed to have so many local restaurants that have exquisite food. My favorite for southern food is Monell's, more upscale is Midtown Cafe, and Mexican would be Las Palmas. I can't even begin to name them all. If you are coming to Nashville, just email me. I would love to meet you and can give you an entire list of yumm local establishments. Another don't miss is Las Paletas popsicles. So fabluous they don't even have a sign. That's all I will say about that!
The shopping in Nashville and surrounding areas leave nothing to be desired. Green Hills Mall is the mecca of a mall in Nashville. It houses all the luxury stores like Louis Vuitton, Tiffany, Free People, Juicy Couture, Lacoste, Bebe, etc. What an experience. The Hill Center is also located in Green Hills and features lots of small, unique boutiques, as well as Anthropologie.
There is so much more I can talk about, but these are the highlights for me. This was so hard for me to do, I LOVE it here and could go on and on. More than anything the people here are super friendly and welcoming. Its a small town feel in a rather growing, large city. If you ever come to town please let me know. I would love to meet my fellow bloggers. Last but not least, if you come you have to stay at one of my fabulous properties-Hotel Indigo of course.
Hotel Indigo Music Row



Hotel Indigo Downtown



I hope I gave you a little insight about this wonderful place I call home. Nashville is read and waiting for you!!! Please let me know if you want to plan a trip down here, I would love to help!!!